Where We Dive
Vancouver Island has some of the best cold water diving in the world!
Making diving easy for beginners and fun for experts is what we do!
Norris Rocks
Did you know?
Sea lions and seals are two different animals. Differences include 1) sea lions have external ear flaps, 2) sea lions walk on land using all four flippers (seals bounce on their bellies) and 3) sea lions use their front flippers to swim (seals use their hind flippers)
Wolf Eel Alley
Glass-Cloud Sponge Reefs
This is a more advanced dive accessible only by boat. Nitrox is recommended and training beyond entry level is required to appreciate this dive and do it safely. This site gets more spectacular the deeper you go. Perfect for photographers, tech divers and rebreather divers.
Keep your eyes peeled because the sponges are not the only wonders of the deep around here. You may also find octopus, king crab, wolf eels, seals, sea lions & if you're lucky six-gill sharks.
Thought to have gone extinct for millions of years, the modern-day discovery of these reefs in the late 1980s stunned the scientific community. In fact, they've been dubbed "Jurassic Park submerged". Scientists calculate these large reefs date back 9000 years – they're an incredible living history. But they're not simply museum relics. These reefs continue to provide huge, safe habitats for all manner of rockfish and other creatures along the North Coast.
- Canadian Parks and Wilderness Society - British Columbia
Wrecks of the
LORNA FOSS & friends
The wreck of the LORNA FOSS is 75ft of west coast history. Inside this wooden tug is a rare ATLAS DIESEL engine for those in the know. Built in 1902 and she sunk at anchor in 2016. In 100ft of water you will find not only the wreck of the historic tug but no less than 4 other smaller wrecks, all easily found by following the provided rope trails that connect these vessels. There are 2 sail boats, a small speed boat and a west coast troller all sitting up-right on the bottom.
This site is perfect for beginner divers to gain experience wreck diving with low stress and easy access.
Octopus Gardens
Shallow diving about 40ft is where we find lots of octopus and other fascinating critters. We can not guarantee that an octopus will come out to guide you around the way this one does but we do know where they live so we can bring you to their door.
Did you know?
Experiments show that octopus can solve puzzles, distinguish shapes & patterns and can develop both short- and long-term memory.
They have 3 hearts and their blood is blue in color.
Artificial Reefs
of British Columbia
Perfect for up to 6 divers STINGER is our mobile 30ft aluminum dive boat with portable compressor. We trailer her anywhere from Victoria to Port Hardy. STINGER will get you and your buddies where you want to go and get you there fast. You can book her for private trips not only to the many artificial reefs but any place you want to go. Fishing, diving, nature tours, water taxi, whale watching and because we can beach her even island hopping.
The Artificial Reef Society of BC (ARSBC) creates and promotes artificial reefs for use by scuba divers as a means to:
Promote economic activity in the vicinity of artificial reef sites;
Promote the technologies and procedures required to establish safe and environmentally friendly artificial reefs;
Promote the use of artificial reefs as a means to minimize the impact of recreational scuba divers on historical wreck sites and other ecologically sensitive dive sites;
Monitor developments of all our artificial reefs for environmental impact and diver safety.
China Creek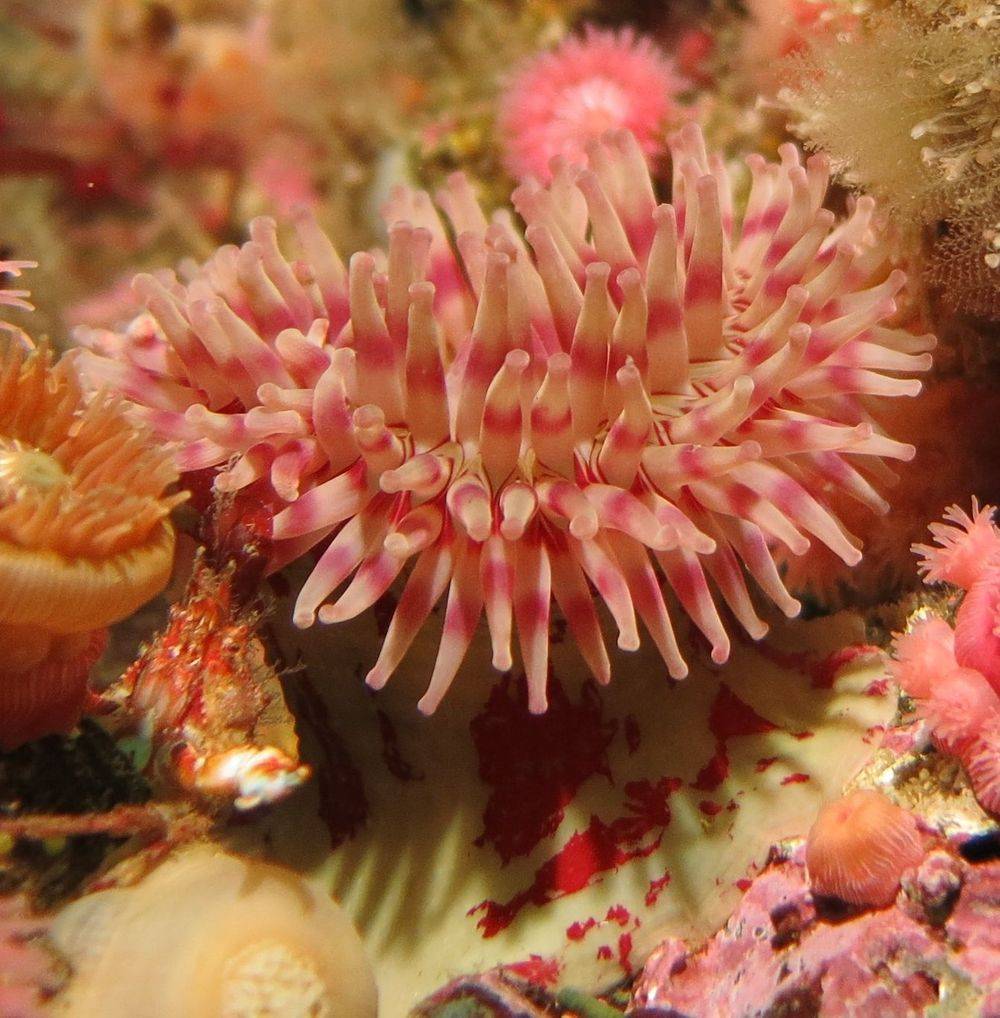 This is a shore dive. Its a long drive down a dirt road but it a fun full day. China Creek has two great dive sites just off the beach. The more obvious one is a wall dive featuring a sunken boom boat and a telephone booth. There's tons of life on the wall including octopus, wolf eels, and a variety of fish species.
The other dive here is "The Migrant Ship." It lays perpendicular to the beach with it's stern at about 18m (60 ft) and the bow sloping down to 30m (100 ft). You're likely to see wolf eels and octopus here as well, along with large crabs, grunt sculpins, and maybe even a seal!
Madrona Point
Shore dive his popular beach dive in Parksville, suited to divers of all levels. The wall hosts a plethora of life and it's not uncommon to encounter curious sea lions here at the right time of year. It's also known as a good spot to see giant pacific octopus! Current doesn't get too strong and max depth is about 33m. A buoy marks the beginning of the wall but it's a good place to practice your navigation skills! (Bring your compass)
Mould's Bay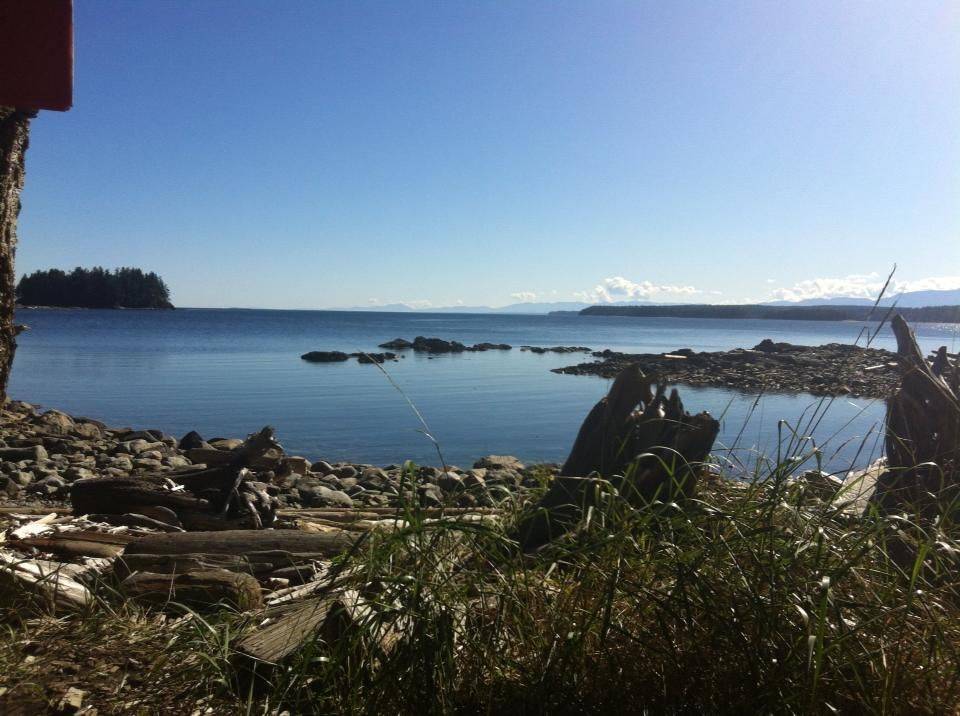 Shoring diving at Mould's Bay is a popular beach dive site on Quadra Island. Only a short ferry ride from Campbell River. The protected, shallow water makes it a good site for Open Water courses but its a great spot for advanced divers as well. Unique rock formations that make up the wall to the right and left of the entry area are home to a variety of interesting critters.
Tyee Cove
Shore diving at Tyee Cove in Nanoose Bay is appropriate for all levels of divers. There's space to park along the road and a path down to the rocky beach. There are two smoothed out entry points to the water that lead into the small bay where you can find all kinds of interesting marine life in the eel grass. On either side of the bay are rock walls that host a variety of life including large boot sponges!
Singing Sands
Beach diving at Singing Sands in Comox with a nice easy entry. But extra caution has to be taken when planning a dive here! Plan to be in the water a half hour before slack tide, double check for strong current after entering the water and be wary of surprise current throughout the dive!
However, it is a beautiful site! At about 70ft there is a sailboat wreck that houses huge lingcod, octopus, rockfish and even the occasional lumpsucker!